Clayoquot Action was founded ten years ago, on the 20th anniversary of the 1993 Clayoquot Summer logging blockades. Although there was still (ongoing) logging of ancestral forests in the Biosphere Region, other threats were on the horizon.
Founders Bonny Glambeck and Dan Lewis were key organisers of Clayoquot Summer, and knew what needed to happen. We got to work.
Early days
Clayoquot Action's mission is to protect the biocultural diversity of the region, through research, education, and advocacy. We stand for Indigenous rights, democratic rights, and the rights of Mother Earth.
The early years were a whirlwind of activities, as we focussed on 3 primary threats (other than logging): oil spills from increased tanker traffic, mining, and industrial salmon farming. There were plenty of actions: a mock oil spill on Fossil Fools Day, a human banner, Bonny's arrest on Burnaby Mountain opposing the TransMountain pipeline, actions at Imperial Metals' AGMs, and sadly, a visit to the Mount Polley mining disaster near Williams Lake in 2014.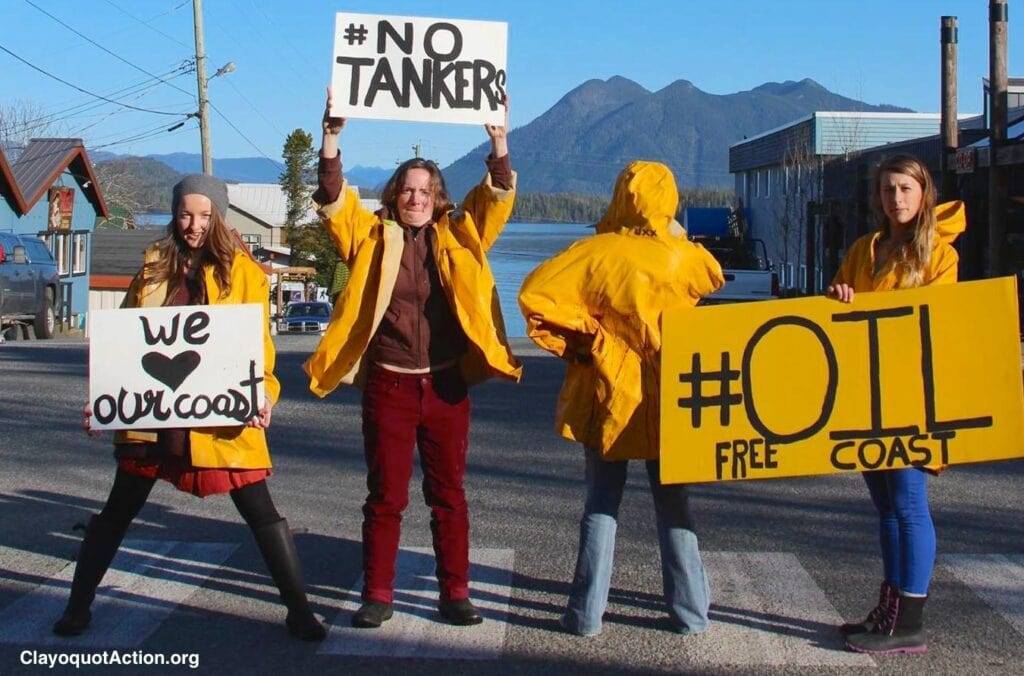 Fish farm focus
After five years of campaigning, we decided to focus our efforts on a present, rather than potential, threat—removing salmon farms from BC waters. Because we are rural, Clayoquot Action plays a unique role in the provincial movement. Our Clayoquot Salmon Investigation (CSI) program gets out to monitor fish farms on a regular basis.
CSI has been able to expose mass die-offs, viral outbreaks, sea lice infestations, herring being killed by sea lice treatments, pesticide dumping in grey whale feeding habitat, tainted blood water in downtown Tofino, sea lions trapped inside fish farms (on an ongoing basis), and much much more.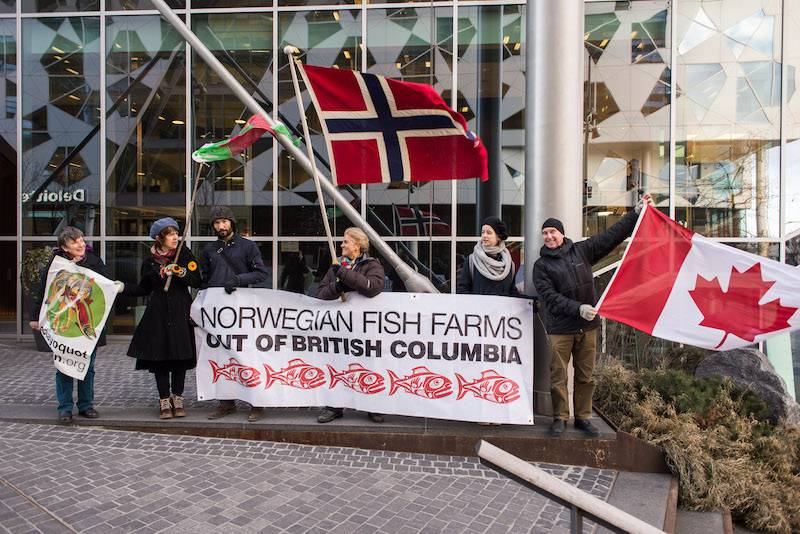 Now is the time
Wild salmon are on the brink of extinction in the Biosphere Region, with runs returning in tens, rather than tens of thousands. There could be many reasons why: climate change, deforestation, come to mind. But there is one threat to wild salmon which is entirely within our control: ocean-based salmon farms could be removed with the stroke of a pen.
The federal government has promised to remove salmon farms from BC waters by 2025. Now is the time. Don't sit this one out! Please be sure to let the feds know your views on salmon farming in BC waters.
Let's celebrate!
All supporters and volunteers (past and present) are invited to celebrate this milestone at Hotel Zed on Thursday September 7 from 4-7 pm. Drop by to meet the CA team and raise a glass to everything we've accomplished together so far!
People power has been key to the successes so far. Clayoquot Action volunteers rock! Thank you so much to all the locals and businesses who have supported Clayoquot Action from the get-go. Also to our supporters around the world. And to everyone who has taken action both online and on the ground!
Dan Lewis is Executive Director of Clayoquot Action.