You know your story has really taken off when media starts calling—from Poland! Two dozen sea lions trapped in an open-net pen fish farm near Tofino in the Clayoquot Sound UNESCO Biosphere Region were covered by over sixty media outlets, including Newsweek, the Guardian, and Fox News in Memphis, Tennessee.
Back in early April, a local eco-tourism operator alerted Clayoquot Action that a couple of dozen sea lions were trapped in Cermaq's Rant Point open-net pen salmon farm. The Department of Fisheries (DFO) had first noted them on March 23rd this year. Clayoquot Action was able to monitor the situation closely until the harvest of farmed salmon was finally complete on April 12th. There is a serious risk to the trapped animals of entanglement and drowning.
Predator fences did not work?
It was quite a feast while it lasted! The mostly California and some Steller sea lions must have found a way in through Cermaq's predator nets, which are supposed to keep sea mammals out. Once in the pen, the animals could move freely from pen to pen, gorging all the while on farmed Atlantic salmon. The company seemed to have no plan for how to deal with this—despite having fish farms in the Clayoquot region for 30 years now.
In past, Cermaq might simply have shot the animals and had them removed. But with their Aquaculture Stewardship Council (ASC) certification at stake, that probably didn't seem like a good option. Acoustic deterrents were used—they sound like a very loud firecracker—but the noise did not scare the animals off. There was talk of using rubber bullets, but CSI (Clayoquot Salmon Investigation—our fish farm watchdog program) did not witness that. In the end, Cermaq just kept on harvesting fish, until there was no longer an attractant in the farm.
DFO did mention that Cermaq was working to repair any holes in order to prevent escapes of Atlantic salmon. But DFO did not state whether or not there were actual holes in the nets underwater, nor whether any Atlantic had actually escaped. Atlantic salmon are not natural to the Pacific Ocean, and can feed on young wild salmon as well as competing for food with adult Pacific salmon.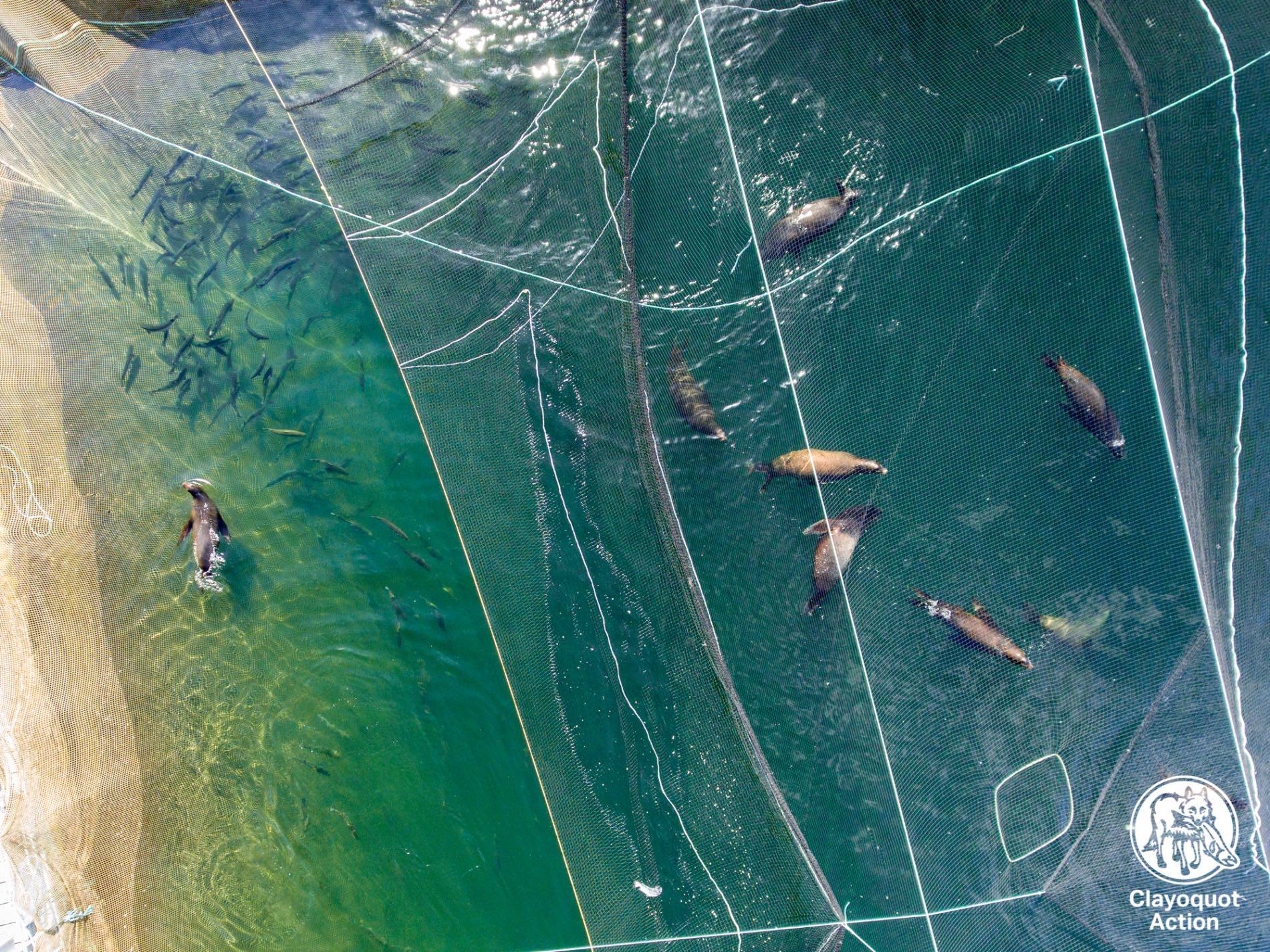 How are marine mammals getting into the farms?
Sea mammals being harmed by salmon farms is not new. In Clayoquot Sound in 2015, Cermaq slaughtered fifteen California sea lions over a period of two days at their Binns Island facility. There have been multiple instances of humpback whales becoming entangled or trapped in farms. In 2013 a young humpback whale was found dead in Cermaq's Ross Pass farm. In 2018 another humpback was freed from a farm. But no-one answered the question: how are whales getting into salmon farms?
Sadly, this story is not yet over. On recent CSI missions, we've seen at least one sea lion each trapped in at least two more facilities in Clayoquot—Bare Bluff and Bedwell East. The companies are unable to prevent sea lions from entering their facilities after 30 years…
Add this fact to the growing mountain of evidence that salmon farms harm the natural environment. The only solution is to remove salmon farms from BC waters—as the federal government has promised to do. Now is the time to add your voice—we've made that simple with an online petition, as well as a nifty tool that makes it super-easy to place a call to Fisheries Minister Joyce Murray. Please take a moment to use these tools to add your voice—wild salmon need your help!
Dan Lewis is Executive Director of Clayoquot Action.
All photos by Jérémy Mathieu